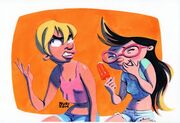 "Yo Pataki is a re imagining of the Hey Arnold characters as young adults. The series (hypothetically) would center around a 26 year old Helga Pataki who is now a bartender works at the family owned business, Big Bob's Cafe." -Nuri Durr
Yo, Pataki! is a fanart project that was created by artist Nuri Durr to see what the adult lives of the kids would hypothetically look like. The idea has been acclaimed by both fans and the crew. 
Gallery
Ad blocker interference detected!
Wikia is a free-to-use site that makes money from advertising. We have a modified experience for viewers using ad blockers

Wikia is not accessible if you've made further modifications. Remove the custom ad blocker rule(s) and the page will load as expected.